Highgrove Bathrooms Supporting The Local Community
Lindsay Sinclair, founder and director of Highgrove Bathrooms, is a long-time advocate of supporting the local community, from schools and sports clubs to non-for-profit organisations, and encourages every single Highgrove Bathrooms business owner and partner to get on board.
Highgrove Bathrooms' presence across major capital cities and regional areas, allows us to partner with organisations such as The Smith Family, Rural Aid Australia and The QLD Rural Fire Services, which make a fantastic job supporting the local community.
With over 50 stores nationally, we are able to support schools and community sporting clubs through the donation of merchandising such as basketballs and sporting equipment.
Table Of Contents
---
Frankston Football Club Frankston on the Mornington Peninsula was the home town Highgrove Bathrooms' Director and Founder Lindsay Sinclair. Lindsay is an avid AFL supporter, and of the Frankston Football Club and has been involved with the club since 1963. For many years now, Lindsay has generously been donating Highgrove Bathrooms vouchers, stubby holders, and merchandise, which are used to fundraise for both the MPNFL and the Frankston Football Club. It's because of the generosity of long-term supporters like Lindsay that we are able to generate revenue, used to support grassroots programs and our club.
Lindsay's desire to support community sports, youth, and this great game is evident upon speaking with him, "The Frankston Football Club represents many great memories of being a teenager in Melbourne, starting out with dreams and aspirations of being a successful businessman. But more importantly, seeing some of the AFL's greatest players climb the ranks and my closest friends battling it out on the field, those memories are why this club will always hold a special place in my heart. The opportunity for us (Highgrove Bathrooms) to become a Joint Major Sponsor of the club, means we can continue to support the youth of today and this great game."
A huge thanks to Lindsay and Highgrove Bathrooms for your ongoing support of the Frankston Football Club.
---
The O'Connor Knights, Canberra --- The O'Connor Knights and Highgrove Bathrooms Canberra are thrilled to announce the 2022 Sponsorship of the O'Connor Knights Women's League Soccer team for the second year running.
"Our women's and girl's participation continues to grow rapidly, particularly for our youth, a chance to play sport and form great relationships within a sporting and cultural environment. It's because of the continued support of businesses such as Highgrove Bathrooms Canberra, that registrations and involvement across our women's and girls' divisions at our club continue to flourish", said the Club President of the O'Connor Knights Mr Steve Radic.
Owner of Highgrove Bathrooms Canberra, Mr. Stephen Muse is an avid supporter of the O'Connor Knights and the Women's State League 1 Team.
The Knightesses are one of the strongest teams in the club and are multi-championship holders over many years. "I am excited to see them perform at this consistently high level again next season and to see them lift the trophy once more. Said Mr Stephen Muse.
I value supporting the club in this way as I know that the donation, I give today will benefit the club in a number of ways throughout the year, in terms of buying equipment like soccer balls, new soccer kits for players, funding functions and awards nights, and providing development and coaching clinics for the growth of the players and the club."
The Knightesses will proudly don the Highgrove Bathrooms blue and white logo on their uniform yet again this season. GO KNIGHTESSES!!
---
Schools and Sports Clubs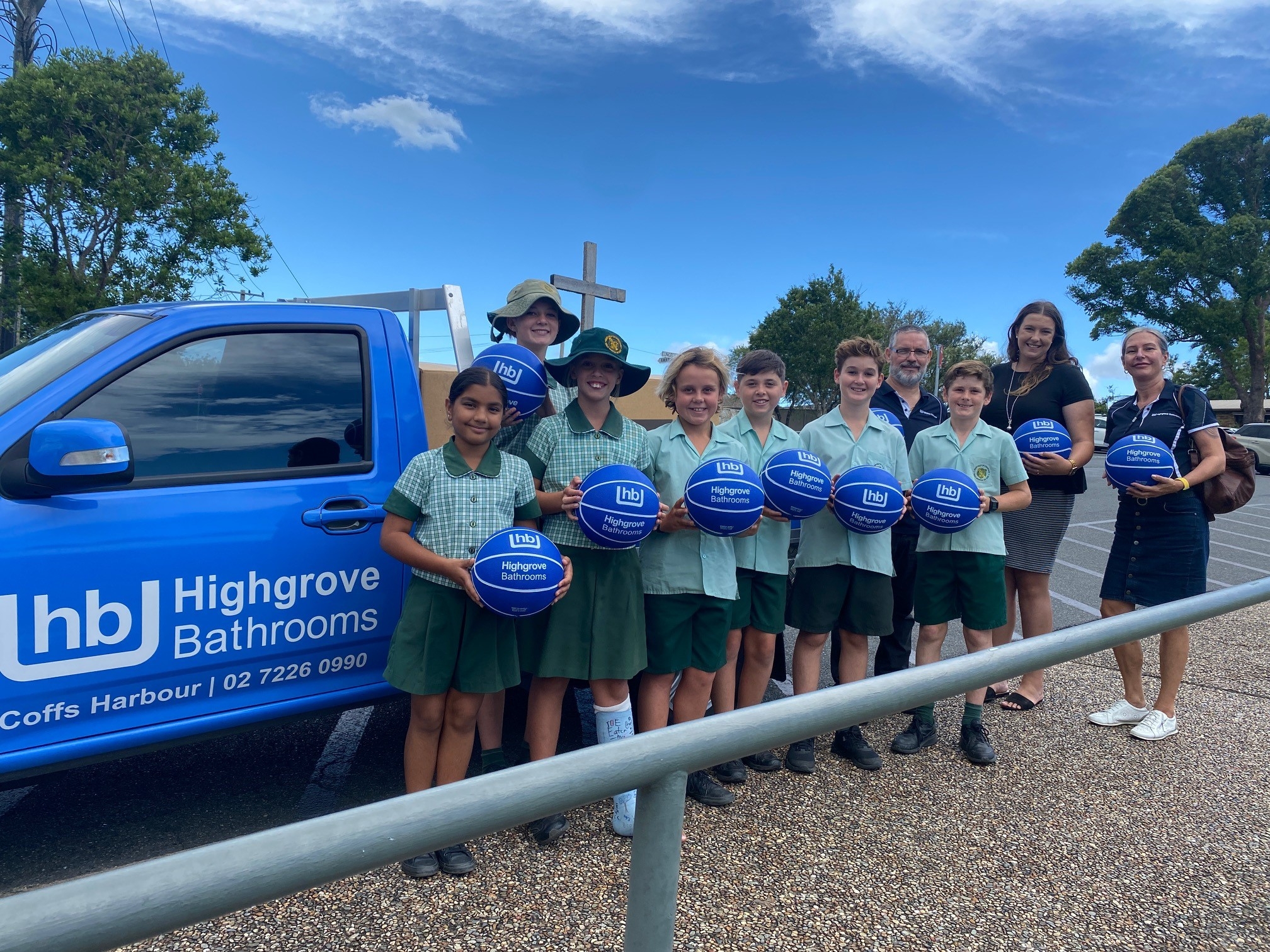 Recently, our stores have distributed over 3000 basketballs throughout Australian schools via their metro and regional stores which will encourage attendance and good behaviour at school.
---
The Smith Family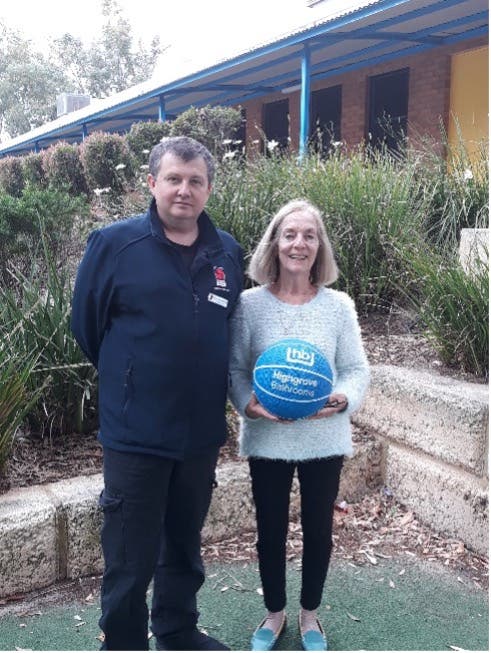 The Smith Family – Learning for Life Program
The Smith Family's Learning for Life Program recognises that disadvantaged children need extra support to stay at school and go on to further studies or a job.
Learning for Life helps create better futures for children in need by providing:
Financial assistance from a sponsor to help disadvantaged families afford the cost of their child's education;

Access to Smith Family educational programs to help children get the most out of their school years
Lindsay Sinclair and Highgrove Bathrooms regularly donates sporting equipment, kids' books to schools and students across Australia.
---
Rural Aid Australia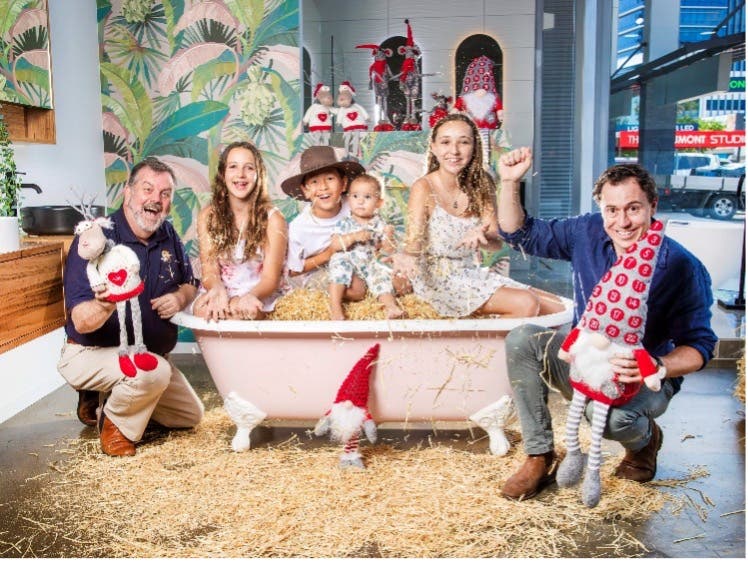 Rural Aid - Buy A Bale Foundation
Highgrove Bathrooms Founder Linsay Sinclair coordinates several fundraising efforts Nationally throughout the year, to raise much needed funds for Australian's affected by the drought and by natural disasters, by supporting Rural Aid Australia.
Make a Farmers Christmas Campaign
Highgrove Bathrooms understand first-hand how much the drought is impacting farming families, which is why 100% of profits made through the sales of Christmas Decorations sold, are donated to Rural Aid and Buy a Bale foundations.
In 2019, we raised over $19,000 and will be aiming to better those efforts in the near future.